From The Girls' Book of Wisdom by Catherine Dee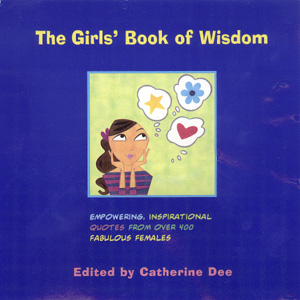 Creativity is simply the process of bringing something new into being.
Creativity can make your life feel rich and rewarding.
Helped are those who create anything at all, for they shall relive the thrill of their own conception, and realize a partnership in the creation of the Universe that keeps them responsible and cheerful.
- Alice Walker
Answering a creative need within affirms one's self- worth.
- Mary Chapin Carpenter
It's fun to be resourceful, to make a silk purse from a sow's ear.
- Cynthia Rowley
Creativity comes with being human, it is the power to think new, to imagine, to see a metaphor. Animals make by instinct. People get new ideas. All you need is an open mind.
- Jean Unsworth
One must also accept that one has "uncreative" moments.
- Etty Hillesum
It is important that we tell our stories. That is what helps seed our imaginations.
- Ann Bancroft
For me, creativity is self- generating. The energy that goes into my work comes back into my life.
- Rosanne Cash
Ride into your life on a creative cycle full of juice, abundance and ecstatic wonderment.
- Sark